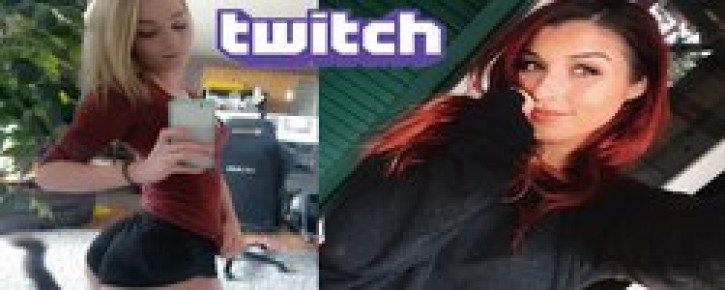 Twitch is one of the most popular websites in the world at the moment, it's a subsidiary of Amazon and it focuses mostly on streaming live video gaming. Right now it has millions of monthly broadcasters and tens of millions of monthly visitors.
Since the broadcasters are making money of this (and the popular ones are actually making great money), more and more people tried their luck on Twitch, including a lot of young and sexy ladies.
Since the biggest majority of gamers are teenage boys, the sexy ladies streaming on Twitch became really popular. Some of them gained tens of thousands of followers and are making thousands of dollars each month, just by playing video games while wearing sexy outfits.
Now let's take a look at some of the hottest Twitch streamers to watch in 2019:
1. ChloeLock – she is a very beautiful girl, and this is not just a matter of personal taste, but she was one of the finalists of Britain's Next Top Model. She is just 20 years old, yet has a very busy schedule being a psychology student, doing modeling and also streaming games on Twitch. She streams various games including Counter Strike and Outlast, as well as various "In Real Life" Videos.
2. KayPeaLol – as her name implies, she is focused on the League of Legends game. Her real name is Kelsie, she's 27 years old, she's from Canada and also has 2 cats that often appear in her streams. Besides Twitch, she also has a popular Youtube channel.
3. Moreberplz – she is also a very good looking girl and lately she has streamed a lot of "In Real Life" videos. Occasionally she also streams games such as Hearthstone, Firestone or World of Warcraft; and sometimes she also plays horror games.
4. Mhova - Morgan Savage is a model from Dallas, she's 26 years old and usually streams games like Overwatch, GTA, WoW, Hearthstone and a few others. When not streaming, she is modeling, doing yoga or playing with her cat.
5. CinCinBear – yet another very sexy girl, she has been caught in many provocative poses in her live streams. She's doing great having more than 8 million views so far, and she plays games like Overwatch, Counter Strike, WoW and Minecraft. She is a passionate cosplayer and also likes anime figures.
6. DizzyKitten – she is also a beautiful gamer and cosplayer, she's 24, she likes cats and has Scottish, Irish and Native American descendants. She usually plays Counter Strike, Firewatch, WoW, Hearthstone and a few others. Starting in 2013, she is one of the oldest streamers, yet still continues to do this every day.
7. ClaraBabyLegs – she is a popular streamer known for some very provocative behavior. This even caused her to be banned on both Youtube and Twitch, but she never gave up and continued to upload and to stream. She has hundreds of thousands of followers and you can also find her on Youtube, Twitter or Instagram.
So here were some of the hottest Twitch streamers to watch in 2019. Which one is your favorite? Let us know by sending us your feedback at [email protected].
All news